C6 Firm Registration with PEC
Engineering or Government contractor business in Pakistan is one of the most profitable businesses for investors and experts. But, when starting a new Construction business, Electrical or Mechanical Engineering services, few legal registrations are mandatory. Few departments require NTN & GST registrations but few require valid PEC registration. Initially, firms get registered with Pakistan Engineering Council PEC in the C6 category. Because C6 (Government Constructor) or O6 (Government Operator) are initial categories with Project limit Rs 2.5 Crores or 25 Million. However, C6 Firm Registration with PEC is a process that takes 3 to 4 weeks in total. For getting PEC registration in C5 or C4 categories, click here.
Requirements for C6 PEC Firm registration
For C6 registration in PEC (Pakistan Engineering Council), initial requirements are the same for all kinds of businesses or firms. For C6 company registration with PEC, except NTN registration no other registration with any department is mandatory. But if the firm or company desiring to apply for PEC registration has one or more prior registration with other departments then there is no obligation.
There are different kinds of firms or companies e.g Private Limited, SMC Private Limited, Sole Proprietor, Form-C etc. So, PEC registration requirements are almost the same but with some extra documents. However, the documents required for C6 PEC registration are as under
Sole Proprietor registration with PEC in C6
1. Registration with FBR –

NTN
NTN – National Taxpayer Number is mandatory for PEC registration in the C6 category or in any other category. Principle activity on NTN must be Engineering related and address on NTN must be the same as desired on the PEC license. But, the NTN numbers must be verifiable online.
2.

ENGINEER REQUIRED

for C6 Firm Registration with PEC
For C6 or O6 company registration with PEC, minimum 5 PCP Points (Professional Credit Points) are necessary. In simple words, every Fresh to 5 years experienced engineer has 5 PCP points. So, 1 Registered Engineer or RE is required for C6 registration. Engineer may be from any discipline but must have valid PEC registration.
3.

CLOSING BALANCE required for C6 registration
PEC has imposed a closing balance requirement for registration in C6 category with PEC. Firm applying for PEC registration in C6 category must have a closing balance of Rs 15 lacs in the account. The account title must be the same as the firm name applied with PEC. But, bank statements must be stamped and signed by bank officials. Moreover, the original Account Maintenance certificate is mandatory for PEC firm registration in C6 or any other category.
4. Original

PEC Challan Fee deposit

slip
For C6 firm registration with PEC, new registration or C6 renewal annual fee is Rs 15,000/- For details on PEC Registration Fee details for New registration, PEC license renewal and PEC license up-gradation, please click here. Sample PEC challan deposit slip is shown below. However, these deposit slips are available in HBL Civic Center Branch 0602 and MCB Melody Branch, Islamabad.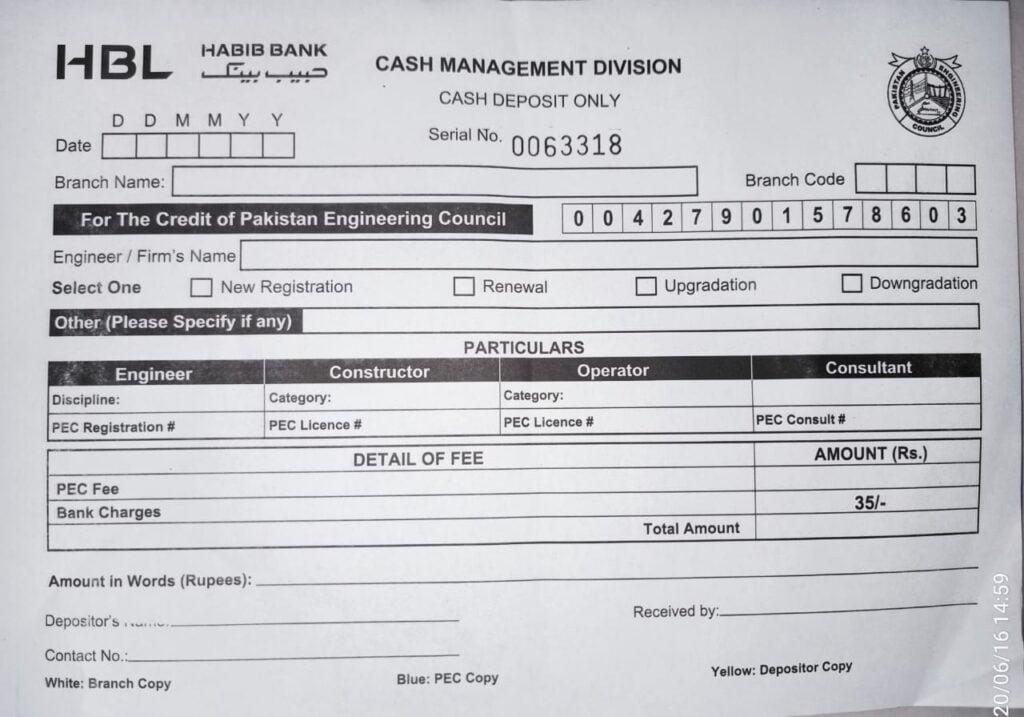 Also read these informative articles