Sole Proprietorship is 1 of the major type of business in Pakistan. Before discussing how to get Sole Proprietorship registration, it is important to understand what is sole proprietor business?
What is Sole Proprietorship business?
Sole proprietor business is a type of business which is run by a single member or owner. A business individual can start business as Sole proprietor by just getting NTN online. In Sole proprietorship, business name is not your property. Business liability is not in limits upto the business.
How to Register Sole Proprietor business?
Sole proprietorship business is station is not a difficult process. Sole proprietor business can register online with the Federal Board of Revenue (FBR). For this type of business registration, you just have to apply NTN online with an exact business name. Don't forget to select business activity e during the registration of NTN. Sole Proprietorship registration can be done within the same day. NTN will be updated online by the system within 24 hours.
Can a Sole Proprietor register his/her business as a company explain?
No, Sole proprietorship cannot be called company. It is just individual NTN showing business name and business activity.
Can Sole Proprietorship be Registered with SECP?
Yes, SECP act 2017 allows Single Member Private Limited Company or SMC-Pvt Ltd company. SMC Pvt Ltd is equivalent of Sole proprietorship in sense of number of owners or directors. But SMC-Pvt Ltd registration is a difficult and time taking process as compared to sole proprietorship registration.
Can Sole proprietorship registration be applied online?
Yes, business individual can apply for Sole proprietorship registration online with FBR. For NTN registration use Iris online portal or click here. Sole proprietorship registration process in Pakistan is very simple and it's totally online.
Documents required for sole proprietorship registration in Pakistan
The following documents are the requirements for sole proprietor registration. Same are the requirements for NTN registration in Pakistan.
Sole proprietor business name, make sure name has no prohibited words
Electricity or Sui Gas paid bill not older than 3 months
Ownership documents or Rent agreement of the business address premises. Address on the utility bill and premises documents must be same.
Coloured CNIC scanned copy of both sides
Business / Principle activity
Documents required for opening Sole Proprietor Bank Account
After getting NTN registration, sole proprietor individual can open bank account in any bank. Following will be requirements for opening Sole Proprietor bank account
Copy of NTN certificate (printable version available online)
Sole proprietor business Letter Head
Stamp /Seal of sole proprietor
Rs 1000 initial deposit for opening bank account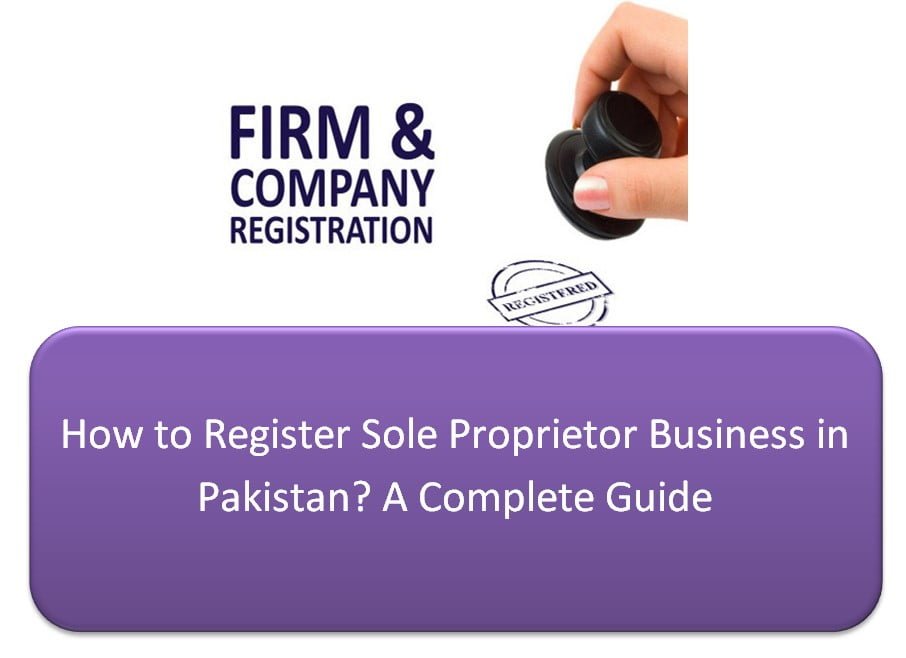 Sole Proprietorship business registration number
NTN number or reference number is available on NTN certificate is proprietor registration number too. It is suitable to display NTN certificate /sole proprietorship registration certificate in business premises.
Sole Proprietorship business registration fee / cost/ charges
There are No Charges for registering individual NTN online. However, the business consultant may charge his consultancy fee
Advantages and Disadvantages of Sole Proprietorship business in Pakistan
There are advantages and disadvantages of getting proprietor registration in Pakistan and are as below
Advantages of Sole Proprietorship:
Sole Proprietor registration with FBR makes it a legal entity
NTN registration makes it possible to open a business bank account
No extra taxes on business
annual return filing is not difficult
Disadvantages of Sole Proprietorship:
NTN registration or sole proprietor registration provides no protection to the business name. Others can use the same business name without any legal issues.
Business individual / sole proprietor / NTN business liability can have liabilities on owner too. The owner cannot separate himself from business properties.
In case of any mishap or bankrupt, owner personal properties/belongings will also be captured
Can Sole proprietor individual can get registration with PEC?
Yes, Sole proprietor can apply for firm registration with Pakistan Engineering Council (PEC) up to Category C4. For category C3 or above, SECP registration is mandatory.
GST registration process for a sole proprietorship
Yes, Sole Proprietor can register for General Sales Tax (GST) or STRN registration with Federal Board of Revenue.
Sole Proprietor TAX Rate
The tax rate for a sole proprietor/business individual is less. Single Member Company Private Limited (SMC-PVT Ltd) business has high tax rates.
Related informative articles: Also Read