Alternative Energy Development Board commonly known as AEDB is a government organization operating under the Ministry of Water and Power. Moreover, AEDB regulates alternative energy development in Pakistan since 2006. However, AEDB Solar Company Registration is a technical process that requires an AEDB expert Consultant for End to End Solutions.
The alternative Energy Development Board AEDB is established in 2003 by the Federal government. AEDB moved under the Ministry of Water & Power back in 2006. However, AEDB was established with a mission to regulate, operate & enhance the development of alternative energy means in Pakistan. Alternative energy development board AEDB is the only Federal institute that regulates alternative energy means in Pakistan. AEDB Solar company Registration is a hectic but doable procedure, which we will explain in detail here.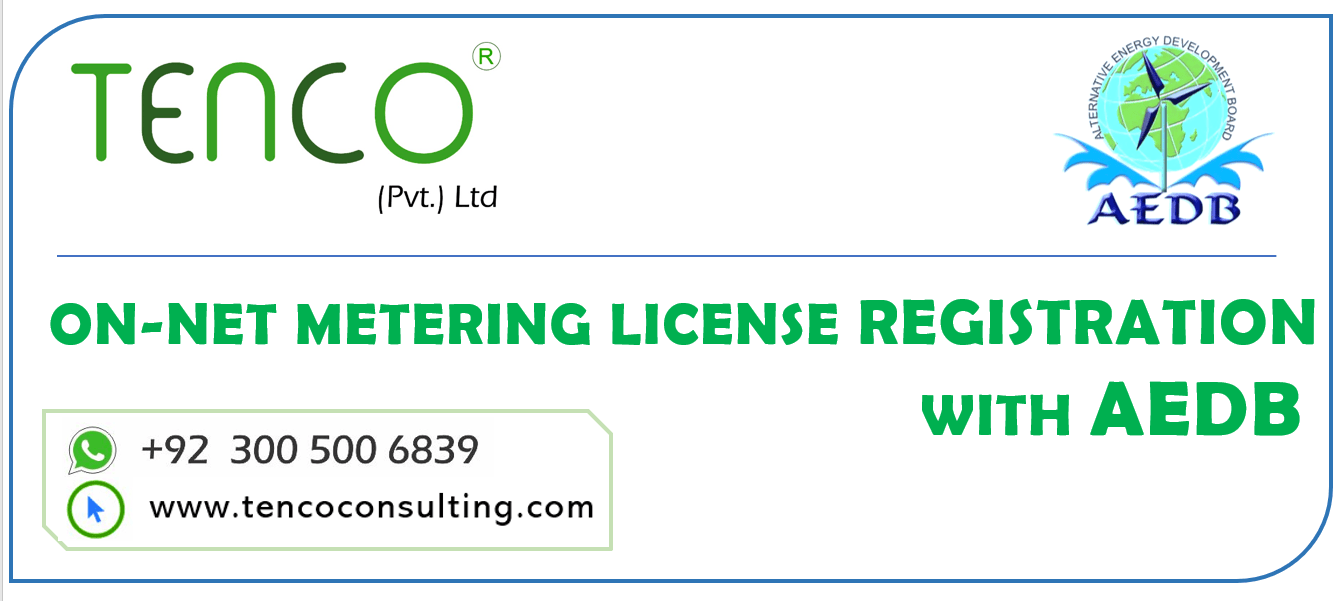 Pakistan is blessed with full of Allah's blessings, one of them being four seasons. We have plenty of sunlight around the year, which is considered best for green energy generation. As a result, millions of MegaWatts can convert our complete electricity generation system to a Green Energy system. Further, the Solar system is a system that converts sunlight (photons) to electricity (DC) energy. There are different types of solar systems
Off Grid Solar system
ON Grid or Net Metered Solar System
Solar Business Registration with AEDB for Net Metering is a complicated and lengthy process. But, it is quite possible if one can fulfil these pre-requisite requirements
Valid PEC Registration
proper documentation as per NEPRA 2015 SRO
relevant expertise
technical staff
bank guarantees
Provincial tax registration etc
What is Net Metering and How Does it Work?
Net Metering also referred to as an On-Grid system is a term used in energy generation. Therefore, an Electricity generation system connected with the Grid/ Network is called an on-grid system.
Net metering is a process in which an Electricity meter can record incoming and outgoing energy to the grid or from the grid.
Why AEDB registration is required?
Solar vendor registration with AEDB is mandatory for the installation of solar or wind energy systems.
An individual firm or company practising solar system installations can go only for minor projects at the domestic or commercial level. Today is a good time for on-grid systems instead of just installing off-grid systems. As a result, without AEDB certification any company is not eligible to install Net metering in any capacity.
A company intends to provide Solar or Wind Energy systems-related services in the Private or public sectors, then AEDB registration is required. AEDB registration is mandatory for On-grid or net metering solar systems installations. Any individual or company cannot install an on-grid system (sale to WAPDA) unless posses AEDB valid registration.
Benefits of AEDB Registration
Surely, there are many benefits of AEDB registration as
Business Development
Eligibility for Bank Leasing
Less competition
Clients trust
can enjoy a good reputation in the market
gets eligible for mega projects
Fulfils requirement for Government projects
great probability to get projects in JV
Open ways to international-level mega projects
Moreover, AEDB will issue Registration for 3 years from now
As per AEDB's new registration policy for the years 2021- 2024. AEDB will issue certifications for 3 years instead of 01-year registration.
Also, there are a few merits & demerits of getting 3 years of registration as under
Pro: Solar companies can execute projects for the next 3 years without getting into the process of renewal every year
Con: Company has to pay an advance fee for the next 3 years, which is a huge overhead
Requirements for AEDB Solar Company Registration
There are different requirements but few of them are mandatory as
Valid PEC Registration in relevant category
Also, PEC license must have Electrical & Mechanical codes
Age of the company must be more than 3 years for C2 and 5 years or more for C1 AEDB registration
For more details visit us at BusinessGuru
AEDB Registration – Budget required
Hence, while applying in any category, the following budget must be allocated (for 01 provinces only)
| | | |
| --- | --- | --- |
| Category | Limit | Cost (Pkr) -non-refundable |
| C3 (03 years) | upto 250kw | 755,000- |
| C2 (03 years) | upto 500kw | 1,225,000- |
| C1 (03 years) | No limit | 1,650,000- |
AEDB Solar Company Registration Fee
Remember, the above table shows complete registration cost for a business to get registered with AEDB.
However, Two assumptions are made, PEC registration is already done & bank guarantee for Rs 500k for next 04 years will be provided by the client. (BG & PEC registrations are not included in above mentioned prices)
AEDB Registration Time?
Therefore, Registration procedures are dependent purely on the completion of the file. If all documents are duly complete & attested then it may take 4 – 5 weeks if forwarded with some expert services provider.
Scope of Solar business in Pakistan
As Pakistan is a developing country, there is huge space for alternative energy means eg solar & wind systems. Also, the scope and market trend has changed, off-grid solar (Solar plates & backup batteries) are getting obsolete. Therefore, large clients/industries are looking for on-grid solar systems which are considered more reliable & cost-effective.
AEDB office address?
AEDB's (Alternative Energies Development Board) head office is located in red zone of Islamabad. Moreover, it is the red zone of Islamabad, the capital of Pakistan.
List of AEDB Vendors in different cities?
As per AEDB stats December 2021, the following are registered vendors
| | | | | |
| --- | --- | --- | --- | --- |
| S.No | City | Total vendors in C-1 | Vendors in C-2 | Vendors in C-3 |
| 1. | Islamabad | 2 | 12 | 6 |
| 2. | Rawalpindi | 0 | 5 | 6 |
| 3. | Lahore | 1 | 19 | 26 |
| 4. | Karachi | 8 | 15 | 14 |
AEDB Approved Vendors in Pakistan (Dec 2021)
What is Net-Metering?
Net-metering is a process that allows incoming & outgoing generated power. In 2018, WAPDA allowed net-metering for domestic & commercial generation of electricity from green sources. Moreover, one can sell & purchase electricity from/ to WAPDA as per the consumption requirement.
Net metering is a process that allows energy generation sources to get attached to the grid
AEDB net metering Vendor Registration
aedb net metering vendor registration
Get AEDB Registration in your desired category
However, if you are looking for AEDB Registration, then you have landed on the correct platform. AEDB Registration can boost your solar business from small projects to mega projects at a rapid pace. Therefore, AEDB Registration make
Solar company authorised for Net Metering throughout Pakistan
Eligible for Government / semi-government projects
eligible for Bank Leasing for solar projects
Registration as a bank vendor for Bank Leasing facility for your clients
Is PEC Registration required for AEDB Registration?
Pakistan Engineering Council PEC Registration is one of many other pre-requisite mandatory requirements before applying for AEDB registration in any category. PEC requirement is different for different AEDB Categories. For example,
upto 250Kw PEC C6 is required
upto 500Kw PEC minimum C5 is required
above 500kw PEC minimum C3 category is required
Can we get AEDB Registration for 1 year?
No, as per the new AEDB policy, only 03 years AEDB certification is issued. AEDB Certificate will be valid for next 03 years from the date of issuance.
Is Bank Guarantee Required for AEDB Registration?
Yes, bank guarantee from any bank in Pakistan is required of Rs 5 lacs for 04 years.
AEDB category can be upgraded or not?
AEDB category upgradation is not entertained by AEDB. Each time some upgrdation, renewal or down gradation of AEDB license is required, then one has to apply from scratch.
AEDB Bank Guarantee is Refundable?
Because, Bank Guarantee submitted to AEDB is refundable after 01 month of the expiry of the license. Refund is conditional if there is no complaint or claim on the certified installer.
Is SECP Registration Mandatory for AEDB Registration?
No, SECP registration is not mandatory as far as AEDB registration is concerned. However, if some new start up is looking for registration in highest category, then SECP registration is mandatory as per PEC registration policy.
Which PEC codes are required for AEDB Registration?
To register with the Alternative Energy Development Board (AEDB) in Pakistan, the following PEC specialization codes are required:
Power/Electrical Engineering
Mechanical Engineering (Thermal/Renewable)
Chemical Engineering (Thermal/Renewable)
Industrial and Manufacturing Engineering (Thermal/Renewable)
Civil Engineering (Thermal/Renewable)
Environmental Engineering (Thermal/Renewable)
Computer Engineering (Thermal/Renewable)
Mechatronics Engineering (Thermal/Renewable)
Electrical Power Engineering (Thermal/Renewable)
Materials Engineering (Thermal/Renewable)
Business Age required for AEDB Registration?
To register with the Alternative Energy Development Board (AEDB) in Pakistan, there is no specific age requirement for a business to be registered. Businesses of any age can register with AEDB, as long as they meet the other requirements and qualifications set by the board. These may include having relevant technical expertise and experience in the renewable energy sector, having a valid business registration certificate, and having the necessary financial resources to undertake the project. It is always best to check with AEDB for the most up-to-date information and requirements for registration.
Direct Registration in AEDB No Limit category possible?
Yes, direct registration with AEDB is possible in No Limit category but after fulfilling pre-requisite requirements